Warbirds Downunder 2020 Postponed – Photographer's Pit Ticket Information
The Temora Aviation Museum management team have been closely monitoring the evolving COVID-19 situation and its potential effects on Warbirds Downunder 2020. After extensive consultation and review, it has become clear that the impacts of COVID-19 would pose undesirable risks to the event, our staff, volunteers, crew and visitors.
As a result, WD2020, originally scheduled for 17 & 18 October 2020, will be deferred to the first quarter of 2021, with exact dates to be announced shortly.
We are encouraging ticket holders to keep their tickets until a new date is announced, however if you wish to receive a refund for the October event, this can be arranged through our ticketing partner, Ticketmaster, here
Photographer's Pit tickets for Warbirds Downunder 2020.
Warbirds Downunder 2020 will encompass a two day full airshow program on Saturday 17th and Sunday October 18th 2020.
To ensure that you stay up to date with all of the latest inclusions and important updates, sign up on our Museum website near the bottom of the home page for our free email newsletter, like our Facebook page or follow us on Twitter.
As Photographer's Pit Tickets are limited, you are advised to pre-purchase your tickets. 
Temora Aviation Museum Annual Pass holders will not be able to use their annual passes to access the Warbirds Downunder 2020 Airshow.
There are no refunds or exchanges on pre-sold tickets.
WARNING – Inferior Warbirds Downunder Tickets
Please make sure you only purchase tickets through our approved ticket seller Ticketmaster. If you purchase through other sellers (like Viagogo) your ticket may not be honoured. View press release from Fair Trading: https://www.finance.nsw.gov.au/about-us/media-releases/fair-trading-warns-consumers-about-ticket-reseller-viagogo
If you are reading this, then you know that you are on the official Warbirds Downunder website and any tickets purchased via the links on this website are directed through to Ticketmaster who is the official Warbirds Downunder 2020 ticket seller.
Ticket Categories
Visitors attending Warbirds Downunder 2020 will have the option to choose from Premium Tickets in the Spitfire or Sabre Stand, Photographer's Pit Tickets or General Admission Tickets. Tickets go on sale December 2019
For information about Premium tickets, please click here.
For information about General Admission tickets, please click here.
Photographer's Pit Pass (Limited)
Inclusions:
Free priority parking
2 day admission pass to Warbirds Downunder 2020 Airshow and Temora Aviation Museum
Amazing location to view the aircraft taxiing, taking off and landing
Exclusive area for Photographers only with lots of ground space to spread out
Grandstand with capacity of 175 people with bench type seats- unallocated seats.
Limited to 80 tickets
Toilets
Marquee with tables, chairs and charging points
Please note that as this area is away from the General Admission Area you will be a distance away from the Food Areas. See picture below.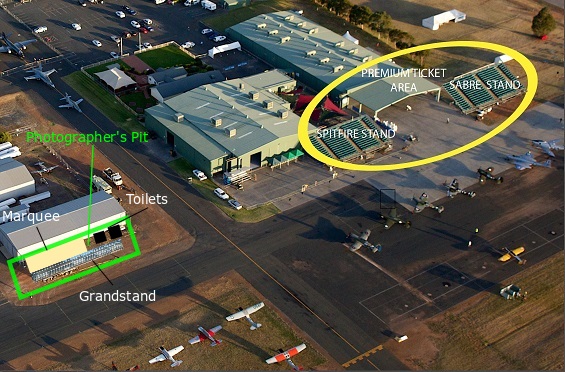 Ticket Prices
| Ticket Type | Online Price* | Gate Price |
| --- | --- | --- |
| Photographer's Pit Pass (2 Days Only) | $140 | $165 (subject to availability) |
*Please note credit card fees apply
Please ensure you read the Terms and Conditions before purchasing your tickets.