Premium Ticket Information
Premium tickets for Warbirds Downunder 2024.
Warbirds Downunder will encompass a two day full airshow program on Saturday 19th and Sunday 20th  October 2024.
To ensure that you stay up to date with all of the latest inclusions and important updates, sign up for our free email newsletter, like our Facebook page or follow us on Instagram.
As Premium Tickets are limited, you are advised to pre-purchase your tickets. Premium tickets will not be available on the day.
Temora Aviation Museum Annual Pass holders will not be able to use their annual passes to access the Warbirds Downunder Airshow.
There are no refunds or exchanges on pre-sold tickets.
WARNING – Inferior Warbirds Downunder Tickets
Please make sure you only purchase tickets through our approved ticket seller Ticketmaster. If you purchase through other sellers (like Viagogo) your ticket may not be honoured. View press release from Fair Trading: https://www.finance.nsw.gov.au/about-us/media-releases/fair-trading-warns-consumers-about-ticket-reseller-viagogo
If you are reading this, then you know that you are on the official Warbirds Downunder website and any tickets purchased via the links on this website are directed through to Ticketmaster who is the official Warbirds Downunder ticket seller.
Ticket Categories
Visitors attending Warbirds Downunder will have the option to choose from Premium Tickets to Harding's Country Club Marquee or Grandstand seating, Photographer's Pit Tickets or General Admission Tickets.
For information about General Admission tickets, please click here.
For information about Photographer's Pit tickets, please click here.
Harding's Country Club Premium Marquee (Limited to 250 per day)
What your experience will include:
• Premium seating inside and outside the Marquee
• Morning tea, lunch and afternoon tea
• 4 hour beverage package
• Reserved Parking area
• Skip the queues with your very own VIP Entrance to the Marquee
• Harding's Country Club Package includes: Souvenir Bag and Cap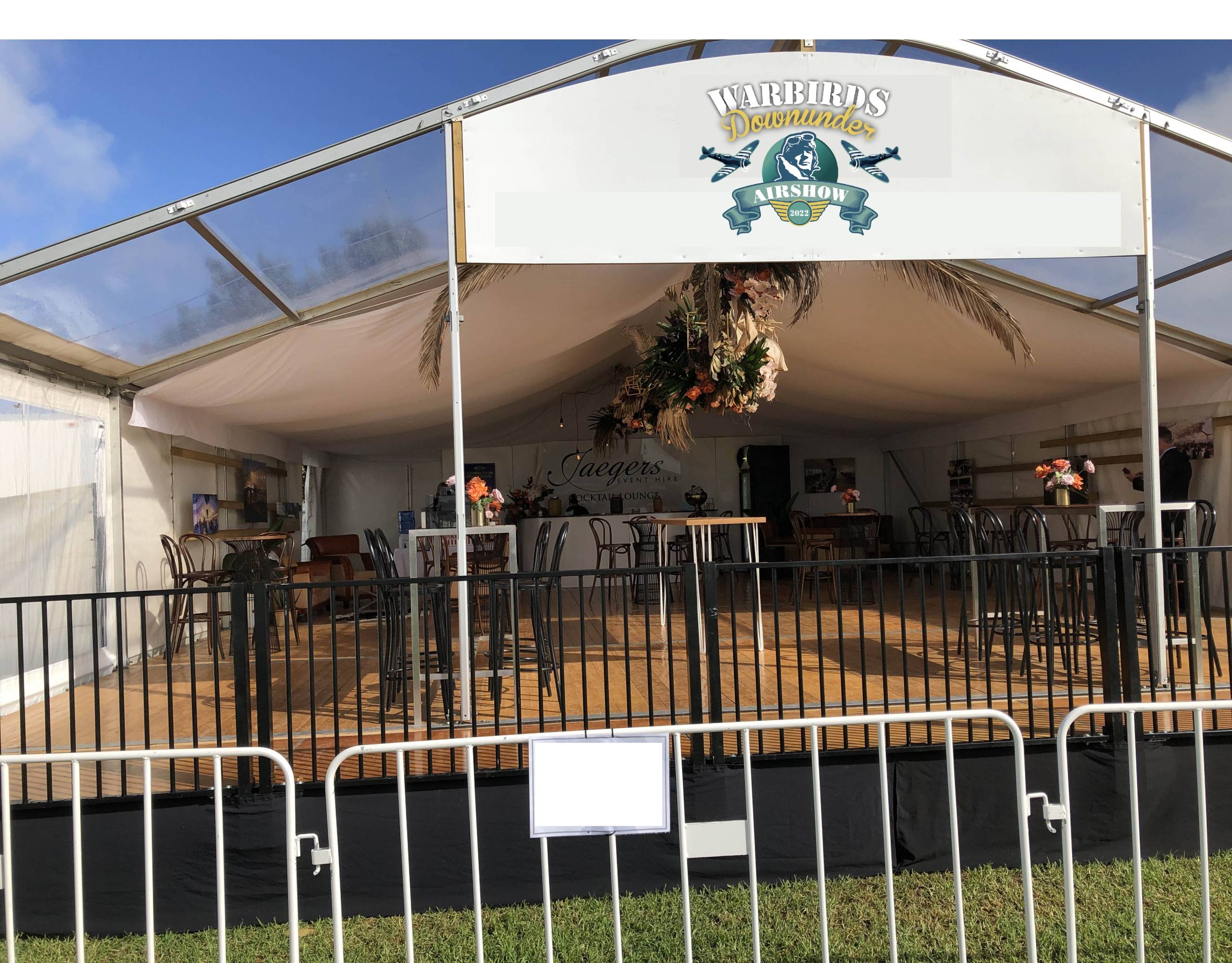 Picture for reference only
Our premium marquee has been named Harding's Country Club in honour of Wing Commander H.R. Harding affectionately known as Hal. He was the longest serving Commanding Officer of No.10 E.F.T.S. in Temora. Hal served from 7th August 1942 to 18th May 1944. Hence the name Harding's Country Club. A sign was hand drawn and placed at the entry of the base for the duration of Harding's command. Harding was known for his efficient running of the base and his uncanny knowledge of what was going on in all areas of the unit. He had the ability to win the confidence and respect of the officers and rank and file at the unit. Harding rewarded the unit for their good service by declaring holidays for a few days in true Country Club style.
Premium Pass in the Grandstand (LIMITED AVAILABILITY)
Inclusions:
Free priority parking
Admission pass to Warbirds Downunder Airshow and Temora Aviation Museum
Allocated grandstand seats, visitors can select their seat when purchasing tickets (click on blue grandstand on Tickemaster page to select your seat)
Access to the Premium Pass Enclosure and exclusive food vendors, coffee vendor, bar, toilets and shaded seating area
Gift pack, including a Premium Pass and Hat
Our Premium Grandstands are not Wheelchair accessible.
Premium Pass tickets are limited in number and are only available online prior to the airshow.
For prices, please refer to the table below.
Ticket Prices
| Ticket Type | Online Price* |
| --- | --- |
| Premium Marquee (2 day) | $400 |
| Grandstand (2 Days) | $250 |
*Please note credit card fees apply
Please ensure you read the Terms and Conditions before purchasing your tickets.