Not keen on setting up your tent or packing up at the end of the weekend? Let us do it all for you when you stay at the Squadron Tent Barracks. Guests who stayed in Squadron Tent Barracks during Warbirds Downunder 2013, 2015 and 2018 will attest to the convenient, warm, friendly atmosphere and cooperative staff that makes this facility a popular alternative and a great way to meet similar minded friends.
Tickets to Warbirds Downunder
In order to stay in the Squadron Tent Barracks you must be in possession of a TWO DAY PASS admission ticket for the Warbirds Downunder Airshow. You will be required to present your tickets to Squadron Tent Barracks staff before you can be shown to your tent.
Admission to the Warbirds Downunder Airshow is NOT INCLUDED in the Squadron Tent Barracks camping price.
Squadron Tent Barracks campsites can be purchased in the same transaction as Warbirds Downunder event tickets via Ticketmaster.
The Tents
The Squadron Tent Barracks is a temporary on-site accommodation facility consisting of cabin style tents tall enough to stand up in. Each tent will be set up before you arrive and feature an awning, internal lighting, carpet on the floor, camp style beds and roll up screened windows – all you need to bring is your linen (sleeping bag and pillow), towels, camping chairs and personal items.
The beds are camp-style stretcher beds that come complete with a mattress which will ensure both a good night's rest, and adequate storage room under your bed for your camping essentials.
Additional items are available for hire, please see prices below.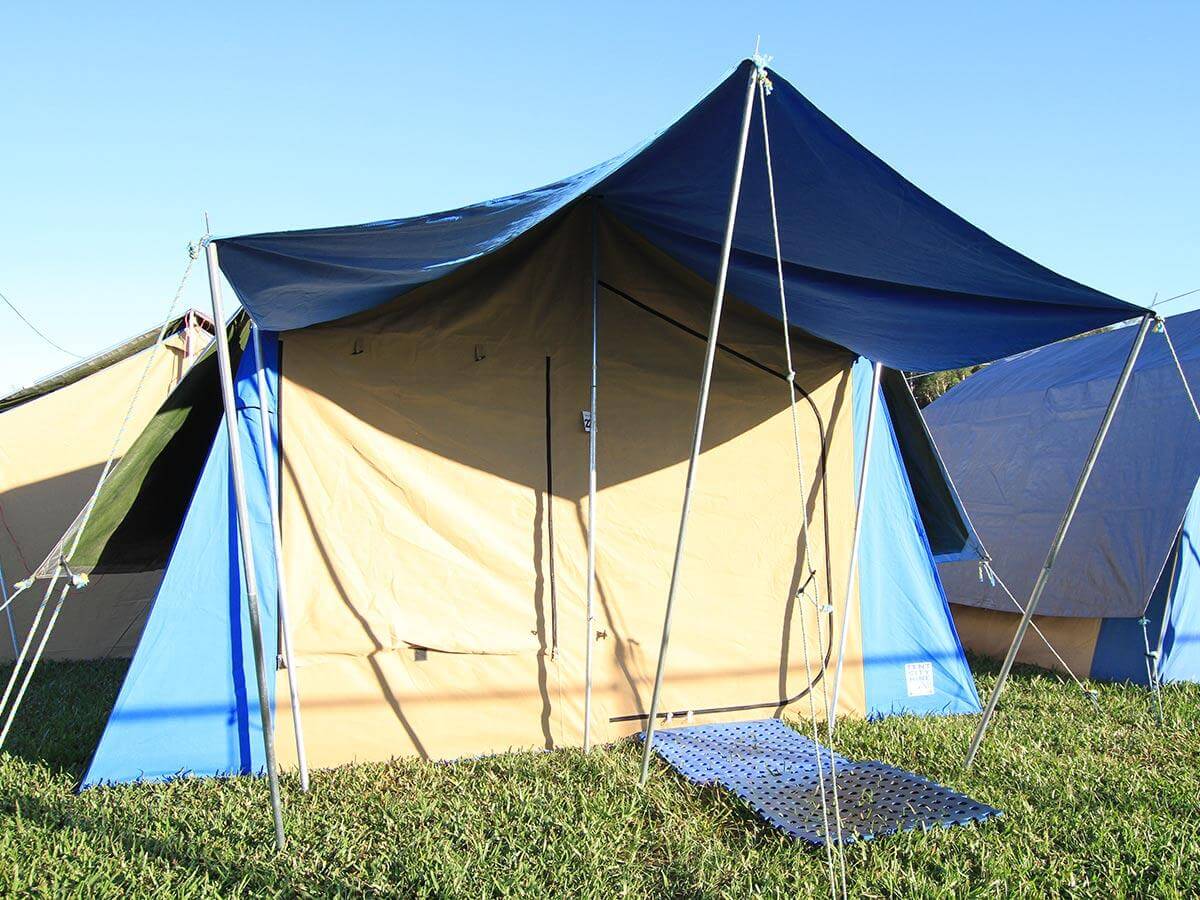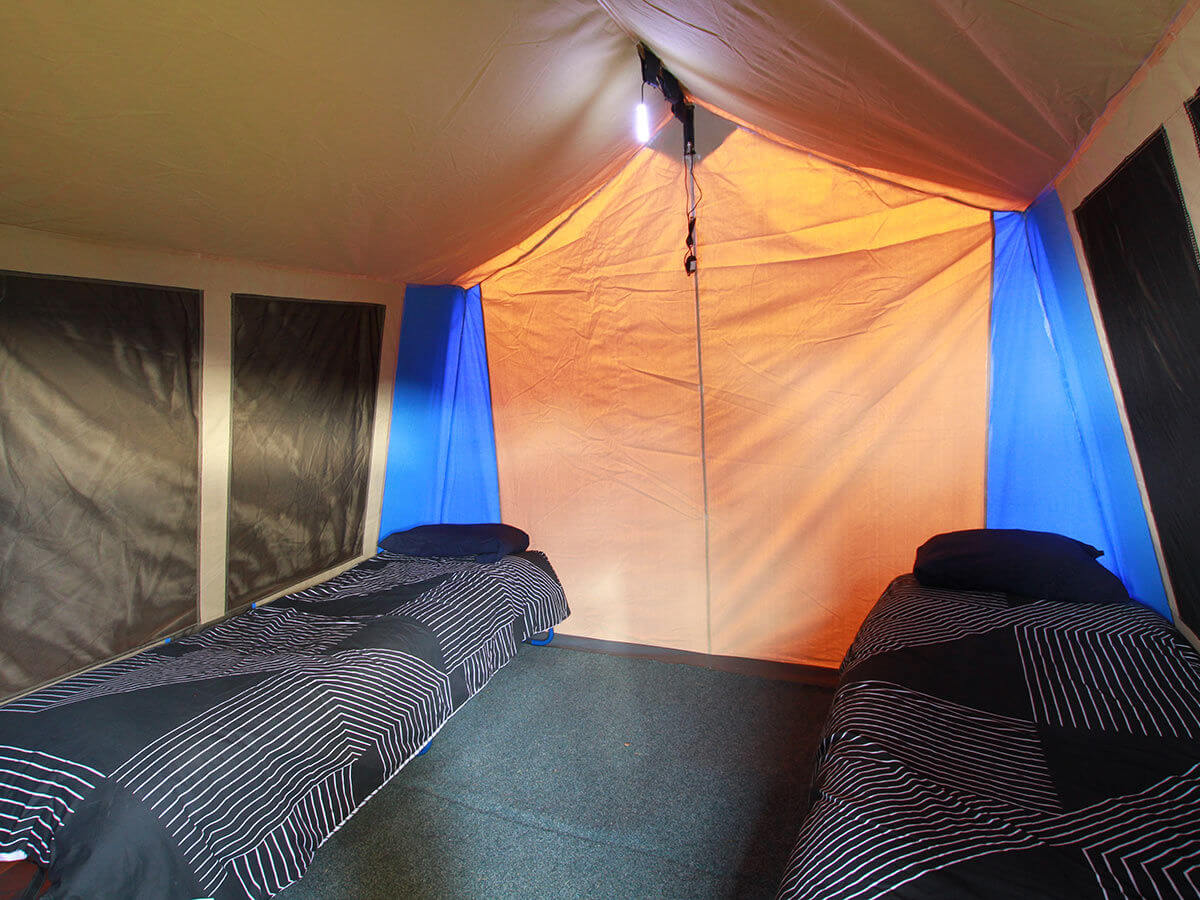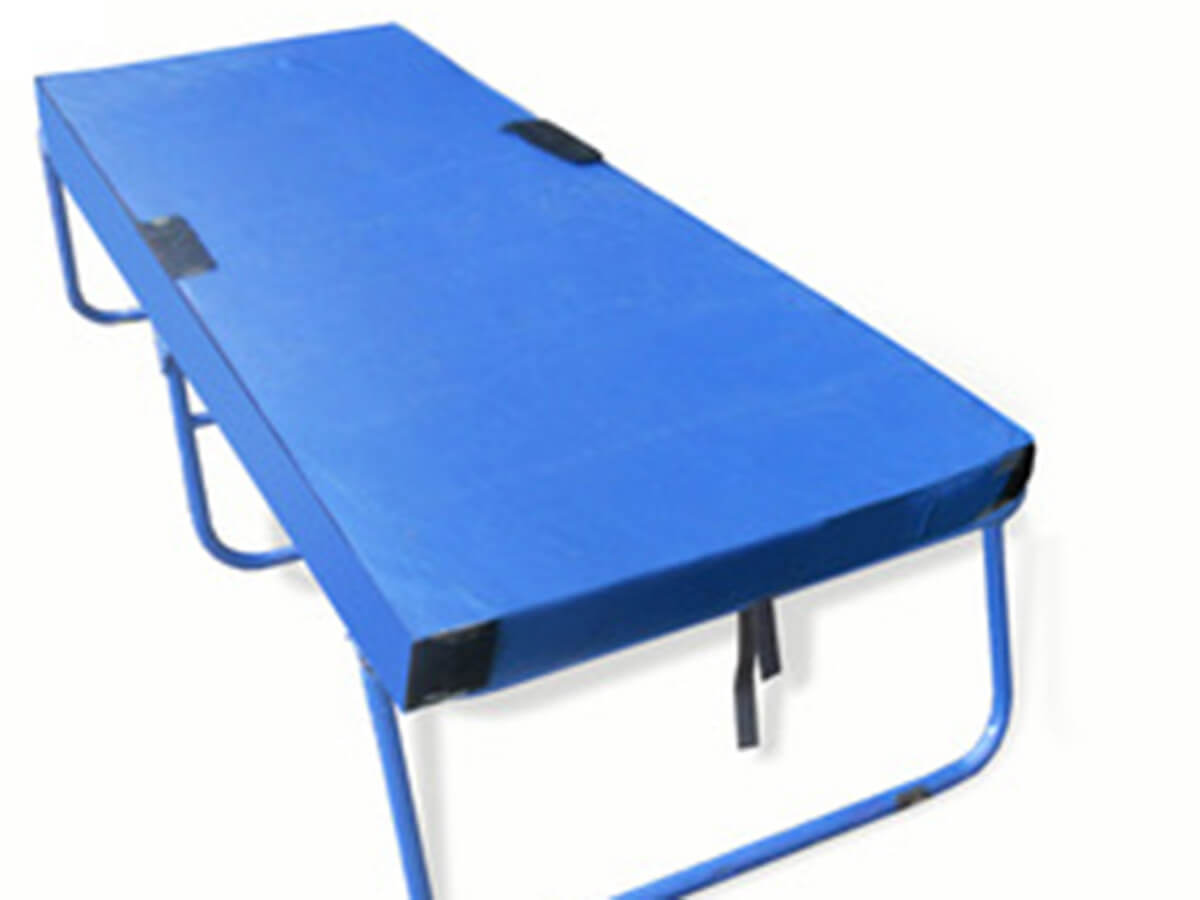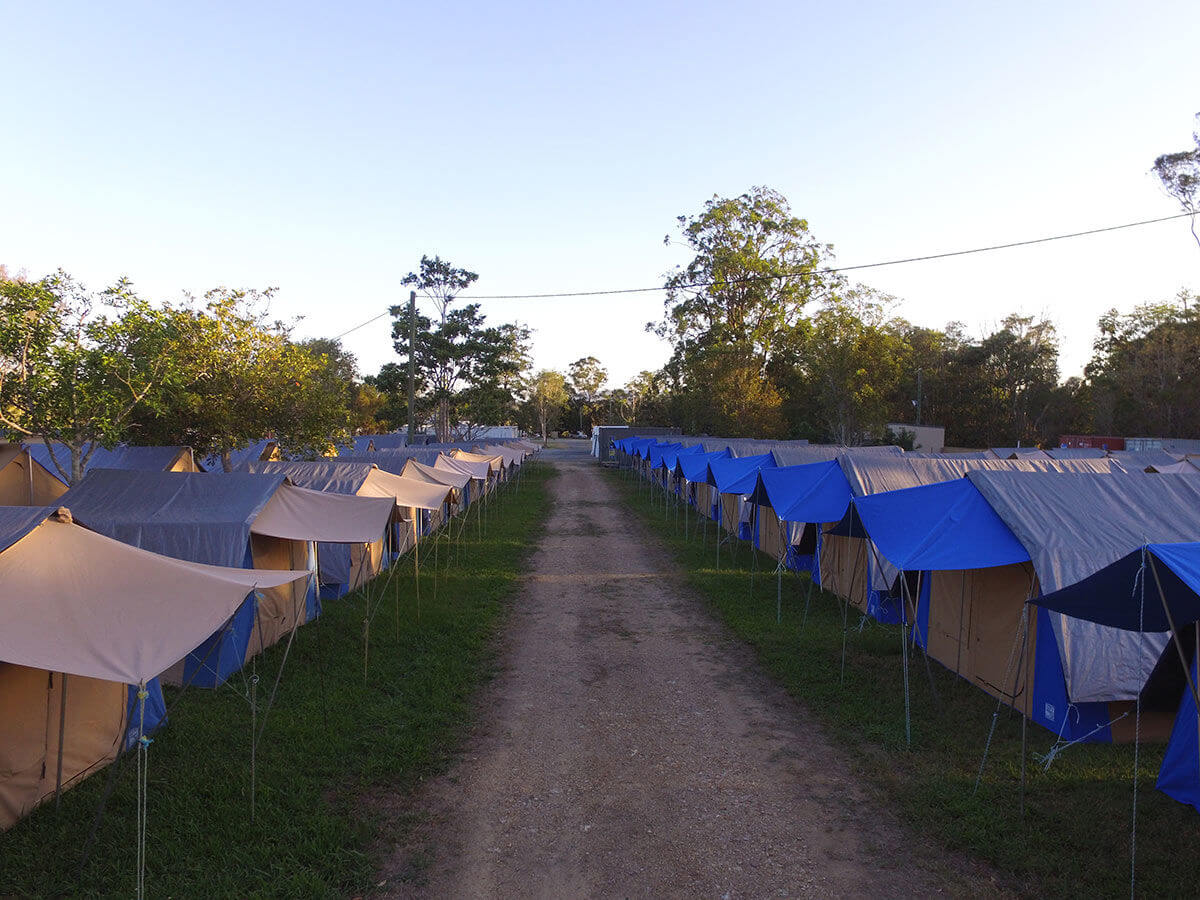 Prices
| | Single Tent | Twin Tent | Triple Tent |
| --- | --- | --- | --- |
| 2 Nights (Fri & Sat) | $355 | $405 | $455 |
| 3 Nights (Fri, Sat & Sun) | $405 | $495 | $550 |
| Linen (per bed) | $60 | $60 | $60 |
| Table (each) | $20 | $20 | $20 |
| Chair (each) | $10 | $10 | $10 |
There is a two night minimum stay (Friday 18th & Saturday 19th). The third night is optional and must be taken on Sunday 20th October 2024. There are a limited number of three person tents available. Bookings are essential as all tent numbers are limited.
If you purchase your tickets to Warbirds Downunder, and then decide to stay in Squadron Tent Barracks, please call Ticketmaster directly on 136 100 and provide them with the details of the transaction for your event tickets.
Additional Hire Items
Tent table: $25
Tent chair: $10
Thicker 100mm mattresses: $20 per bed
Single bed linen: $60 per bed
Additional items must be hired at the time of booking the Squadron Tent Barracks site. They will not be available to hire on arrival.
Location
Located on Bartondale Road in Temora, the Squadron Tent Barracks offers guests a premium location with direct access to the event site for Squadron Tent Barracks guests only.
Squadron Tent Barracks will be available for check in on the Friday before the airshow and all patrons must depart immediately following the airshow on Sunday. Those that have booked the optional Sunday night must depart by 12 noon on the Monday (Sunday night bookings will be checked on Sunday afternoon).
Facilities
The Squadron Tent Barracks will have hot showers and toilets within the facilities' grounds that are exclusive to tent barracks patrons. Disabled facilities will be available.
The Squadron Tent Barracks hospitality marquee will be a social area for campers, providing tables, chairs, cool room, BBQ, microwave and toasters for those campers who wish to cook their own meals or have the munchies at the end of the day. Campers are welcome to store their own drinks in the cool room.
Security
Tent City Hire staff will be present onsite at all times. It is advised that valuables should not be kept in the tents.
Periodic security patrols will occur during night hours. The area is fenced and car parking is available on site as well.
General Rules
Alcohol is permitted to be consumed responsibly within the Squadron Tent Barracks area. As this is a family area drunkenness and/or anti-social behaviour will not be tolerated and you will be asked to leave.
For the consideration of all guests there is a curfew on noise after 10.00pm and before 6am.
Permitted Items
Gas bottles and small BBQs
Eskies and coolers
Prohibited Items

Please note that prohibited items may be confiscated so if in doubt, leave it at home.
There are to be no generators in these areas
Offensive weapons, including potential missiles
Illegal substances
Animals (excluding guide dogs)
Flares, fireworks or sparklers
Drums
Fires and open flames of any kind (Gas BBQ's are ok)
Sound systems
Portable laser equipment and pens
Any other item deemed to be dangerous or offensive or potentially dangerous by event organisers.
Unmanned Aerial Vehicle (UAV), Unmanned Aircraft Systems (UAS), Remotely Piloted Aircraft Systems (RPAS) and any other forms of Drones or powered Models are prohibited by the Civil Aviation Safety Authority to be used or operated at Aerodromes or within 30 meters of any other person. You could be fined up to $4000 so do not bring them to Warbirds Downunder.