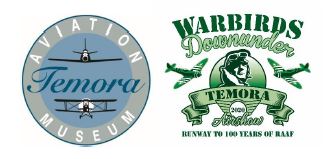 MEDIA RELEASE- 25th AUGUST 2020
WARBIRDS DOWNUNDER 2020 NOW IN 2021!
The Temora Aviation Museum management team is pleased to announce the rescheduled dates for Warbirds Downunder are 6th & 7th March 2021.
Tickets for the event will be available from 10am Wednesday 26th August  at www.warbirdsdownunderairshow.com.au
The Museum's General Manager Peter Harper said "Obviously 2020 has been a challenging year to say the least, but we are pleased to be able to announce this new date for Warbirds Downunder 2020, which will now be in March 2021. Naturally we are monitoring Government restrictions closely but remain optimistic that the event we be able to proceed come March 2021. Our team has already done some extensive work ensuring that the event will comply with COVID Safe Plan requirements, but we will need to see restrictions lift significantly from what they currently are to allow more spectators before the event can be economically viable."
In lieu of original postponed Warbirds Downunder date, we are pleased to announce that we are planning to host a smaller flying event in the form of an Aircraft Showcase on 17th & 18th October, this will be the first flying event held at the Museum since November 2019.
The October event will comply with NSW government guidelines which means that currently we are limited to 500 people on site (excluding staff & volunteers), but we will be monitoring these imposed restrictions and adjusting as required. More information on this event will be shared on Social Media.
For more information about Warbirds Downunder 2020, visit www.warbirdsdownunderairshow.com.au
Media Contact: Peter Harper 0458 771 093 or P.Harper@aviationmuseum.com.au